Cardboard Shapes and Forms
Organic Polska offers various types of cardboard shapes and forms, including: lamps, furniture inlays, scratching posts and much more. As Organic Polska, we are able to prepare many variants of cardboard shapes and forms, both decorative and utilitarian. They are all made from carefully selected cardboard or glueboard, which increases their operational strength. Feel free to learn more about Organic Polska's range of cardboard shapes and forms.
What are cardboard shapes and forms?
As the name suggests, this category of products includes many shape variants and usable forms made of cardboard, which are characterized by durability and at the same time are a more sustainable choice than alternative materials. They can successfully become a fixture in your home or office, or can be used as an insert in furniture or doors instead of Styrofoam. We create both standard forms and less standard designs on special request.
Our offering includes, among others: cardboard lamps, cardboard fillings and furniture inserts in various sizes, cat scratchers in basic versions or with additional features, as well as decorative logos and letters made of thick cardboard, which are perfect for indoor use. These products are most often made from 5-ply BC-wave paperboard of 550-750g grammage. We also use kraft cardboard for special orders. We make a wide range of shapes and forms, so it is worth contacting our experts directly.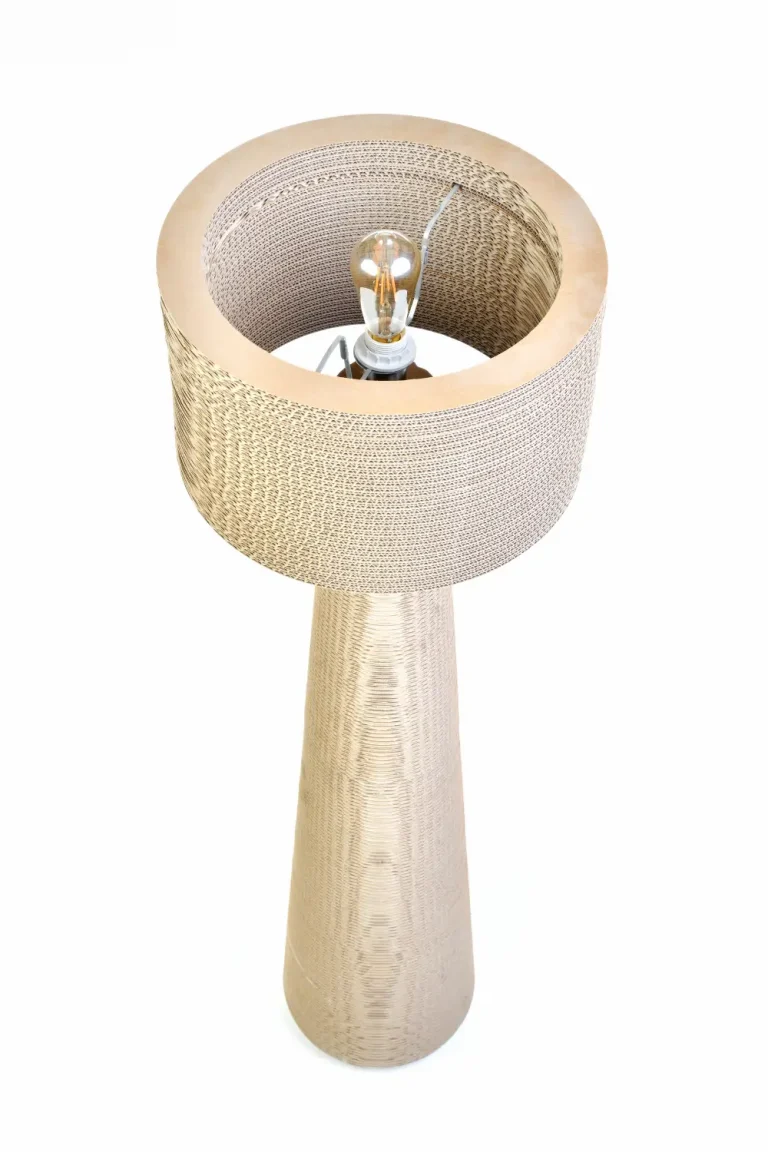 Why choose cardboard shapes and forms?
Our products are all about putting sustainability and ecology first. The possibilities offered by cardboard are almost endless when creating shapes. In addition, cardboard is great for soundproofing and creating thermal insulation. Take a look at our range of cardboard shapes and forms that interest you. Shapes made of glueboard are characterized by unique aesthetics and functionality. If you have any questions or concerns, feel free to contact our team.
Cardboard packaging manufacturer Organic Polska Sp. z o.o. is a family-owned company with a wealth of experience. Present on the market since 2009, from the very beginning we constantly introduce newer and more interesting products tailored to the needs of the most demanding customers. Our product range includes: cardboard IBCs, transport packaging, cardboard pallets, stabilising elements (i.e. cardboard profiles and spacers) to name a few. Our solutions help customers eliminate heavy materials (e.g. wood) and non-organic materials (e.g. polystyrene foam) from their processes, simplify packaging, and eliminate transport damage to generate savings and improve the customer's image. If you want to learn more about our offer and how we can improve the logistics in your company, contact our advisors personally.
ul. Lubelska 5
24-173 Markuszów